CLEANS ENTIRE DIESEL ENGINE IN ABOUT TWO HOURS*
Completely Cleans Entire:
EGR Circuit
Oil System
Fuel System
The Diesel Force™ Maintenance Program is a revolutionary cleaning system designed exclusively for diesel engines equipped with modern emissions systems. Powerful products work together for comprehensive cleaning results. This program will significantly reduce filter regeneration and emissions system component failures.

Our full-time staff is committed to helping you find a solution to your unique situations.

Stop Replacing EGR valves, EGR coolers, VGTs, and DPFs. Maintain them with Diesel ForceTM
*Times are dependent upon engine size and soot load.
Remove soot, optimize efficiency, extend engine life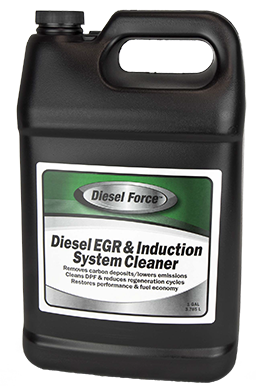 The Revolutionary EGR System Cleaner steals the show with unbelievable results! This unique solvent-free product is formulated to safely dissolve carbon buildup on contact. It is designed to restore your diesel engine back to factory conditions.

Rapidly expanding high volume foam is delivered simultaneously into the intake and exhaust side of the engine with our patented Diesel Force™ equipment. Buildup is removed from the inner surfaces and passageways of the induction system and all major emissions system components.
Decreases unscheduled down-time
Significantly reduces replacement part costs
Removes particle buildup from EGR and Induction System
Cleans the EGR cooler, reducing intake air temperature
Scrubs the DOC and DPF, reducing regeneration cycles
Increases turbo speed and boost, which increases efficiency
Smooths rough idle and improves performance
Cleans differential pressure sensor ports and grid heaters
Extends engine life
Reduce particulate emissions in one step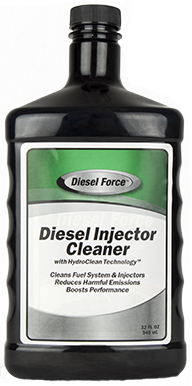 Diesel Force™ Injector Cleaner is a "One-Tank Cleanup" unique maximum strength product for cleaning both external and internal diesel fuel injector deposits. Rapidly and safely dissolve carbon, gums, varnishes and other combustion by-product deposits from fuel injectors and the combustion change. The cleaner dissolves away Internal Diesel Injector Deposits (IDID) that plug internal passages on today's High Pressure Common Rail (HPCR) fuel systems.

No tool is required to clean your injectors with this revolutionary product. Simply add the appropriate amount to the engine's fuel supply. Within minutes poor injector spray patterns are restored and engine "chatter" is gone.
Removes carbon from injector tips
Dissolves metal contaminants through direct reaction
Eliminates biodiesel oxication accumulation (salt layers)
Restores jet penetration
Reinstates spray symmetry
Increases power and torque
Our Equipment Gives You Complete Control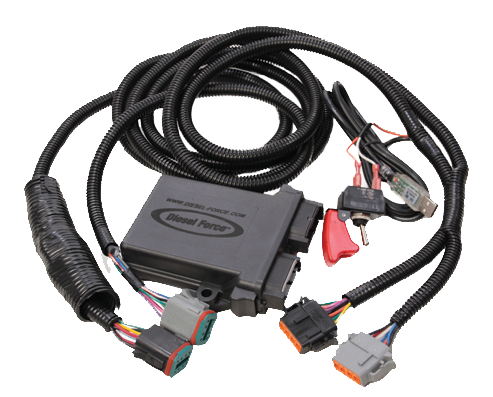 Technology drives innovation. When you have powerful cutting-edge products that will transform industry expectations, you design a delivery system and stand behind it.

The VGT & EGR Controller cycles both the EGR valve and the turbo continuously through their full range of motion. When used in conjunction with any of our Delivery Systems, this tool provides for optimal system cleaning.

Our custom interface enables the technician to monitor key parameters while our state of the art EGR & Induction System Cleaner is delivered. We strive to "reset" your engine, allowing it to perform as it did when new.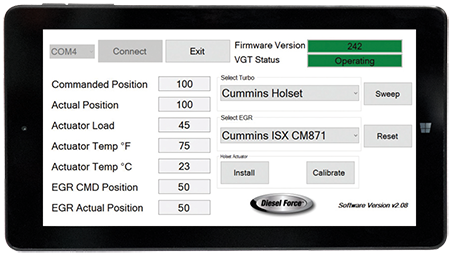 Custom Diesel Force™ Kits Can be Made For Any Engine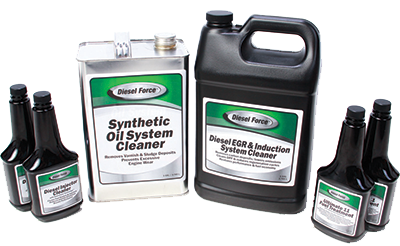 Kits for large and small displacement engines. We package one vehicle per box.


We make kits according to your needs. We can address your unique situation.